Making your home as relaxing as possible is vital to your overall health and wellbeing. When you're stressed out, the last thing you want to do is come home to a chaotic environment. Your home should provide a peaceful oasis where you can escape from the world's troubles. After all, your home is your safe space where you can be yourself freely without reservations. So it should feel that way too.
You can make your home feel more relaxing, from humble additions such as premium bed linens to more luxurious features like a home sauna. These are all excellent ways to do just that.
Here are some of the best additions to your home to make it more relaxing:
Add Greenery
One of the most effective ways to make any space feel more relaxing is to add some greenery. Plants look good, and they also have many benefits for your health. They purify the air, boost your mood, and reduce stress levels. Opt for low-maintenance succulents or cacti if you don't have a green thumb.
Good Quality Bedding
The quality of your bedding can make a world of difference in how well you sleep. If you're feeling exhausted, it might be time to invest in some new sheets and blankets. Look for bedding made from natural materials like cotton or linen. These fabrics are breathable and will help you stay relaxed and comfortable.
Weighted Blankets
Weighted blankets are becoming increasingly popular because they offer so many benefits. They're excellent for reducing stress and anxiety, and they can also help you sleep better. The weight of the blanket provides a feeling of safety and security, which can be very calming.
Replace Your Old Mattress
Investing in a high-quality mattress is one of the best things you can do for your health. A good mattress will support your back and help you get a restful night's sleep. If you're not sure which mattress is right for you, consider talking to a specialist at a local mattress store or a sleep doctor to figure out what kind of mattress would best suit your sleeping habits.
Use Softer Lighting
Creating a relaxing atmosphere in your home starts with the lighting. Harsh overhead lighting can be bad for the eyes and increase stress levels. Softening your light fixtures with shades or bulbs with lower wattage will help create a more calming environment. You might also want to add candles or string lights to your space for a relaxing ambiance.
Get Organized
It's hard to relax in a cluttered and chaotic environment. If your home is full of clutter, it might be time to declutter. Getting rid of unnecessary items and organizing your space will help you feel more at ease in your own home.
Calm Down With Colors
The colors in your home can also influence how relaxed you feel. Stick to calming hues like blue, green, or lavender for a serene atmosphere. You can use paint, wallpaper, or even accent pieces to add pops of these colors to your space.
Comfortable Furniture
Your furniture should be comfortable as well as stylish. It's essential to have a place to relax in your home, whether it's a cozy armchair or a spacious sofa. Make sure your furniture is the right size for the room and offers adequate support. It would help if you also considered investing in a massage chair or recliner for ultimate relaxation.
Sun Rooms
A sunroom is a great way to bring the outdoors inside and make your home feel more relaxing. These rooms are typically filled with natural light and offer beautiful views. If you don't have the space for a sunroom, you can also create a similar atmosphere by setting up a relaxing seating area near a window in your home.
Home Sauna
Consider adding a home sauna to your space if you want to go all out. This luxurious addition will help you relax and detoxify your body. You can find saunas the right size for any home, from small portable units to large, custom-built models.
Swimming Pools and Home Spas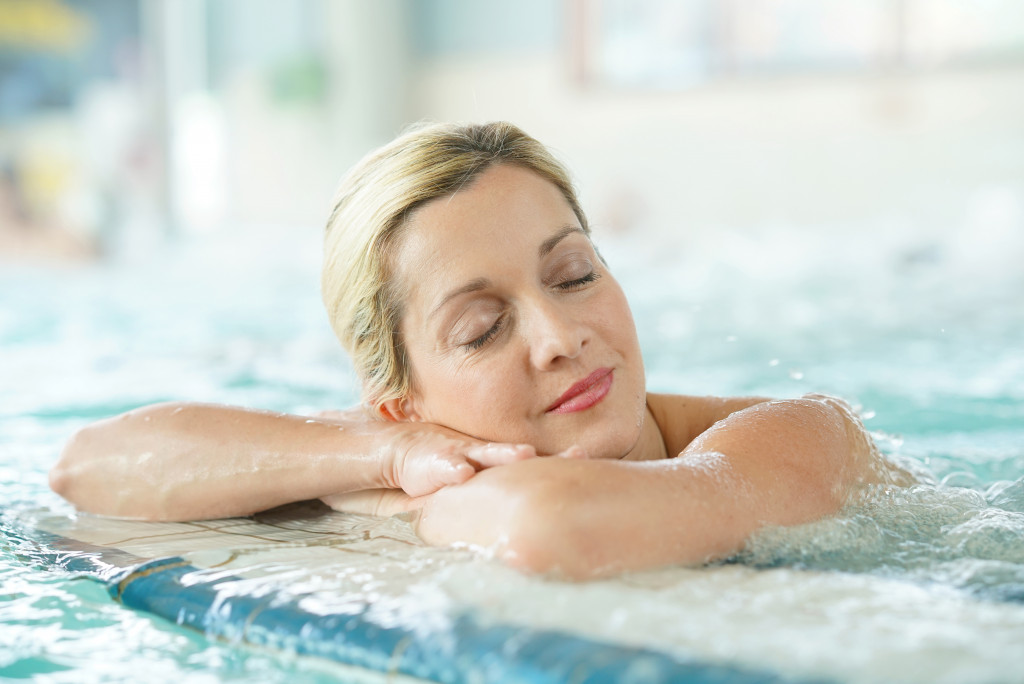 Another way to make your home more relaxing is to add a classic pool and spa. These features will let you unwind in your own backyard and serve as an excellent source of water therapy. If you don't have the space or budget for a pool or spa, you can choose a hot tub instead.
Create an Outdoor Living Space
Create an outdoor living space if you want to enjoy the outdoors without leaving your property. This can be anything from a simple seating area to a full-fledged outdoor kitchen. Adding furniture and amenities like an outdoor fireplace will make your space more comfortable and enjoyable.
No matter what additions you make to your home, the most important thing is that you feel comfortable and relaxed there. Your home should be your oasis where you can unwind and escape from the world's troubles. With these tips, you can create a calm and relaxing environment that will help improve your overall health and wellbeing.