If you're a modern homeowner, you know that home decorating is more than just a hobby – it's a way of life! There are so many ways to express yourself through your home, and the options are endless. However, it's important to choose the right designs and colors that reflect your personality and style. This way, you will always be happy and comfortable at home.
What Are Modern Homes?
Modern homes are defined by clean lines, simple designs, and a focus on function. This style became popular in the early 20th century, and it has been gaining popularity ever since. Modern homes are often open and airy, with large windows that let in natural light. They are usually decorated with minimal furniture and accessories to keep the space looking clean and uncluttered.
How to Decorate Your Modern Home
When decorating your modern home, it's important to stay true to the style. This means choosing simple, clean-lined furniture and avoiding too many bright colors or patterns. Instead, opt for neutral colors like white, black, or grey.
Below are more tips on how to decorate modern homes:
Use light, airy colors to create a sense of space.
If you want to add color, use accents in shades of blue or green. Airy colors work best in large rooms, like living rooms and kitchens. You can shop for solid color laminates if you want a more seamless look.
Choose furniture with clean lines and simple designs.
When shopping for furniture, look for pieces that have a sleek, modern design. Avoid anything too ornate or fussy – it will only clutter up the space. Instead, focus on finding pieces that are functional and stylish.
Accessorize with caution.
Since modern homes are all about simplicity, it's best to avoid using too many accessories. A few well-chosen pieces should be enough to add personality to your home without making it look cluttered. When in doubt, less is always more!
Add texture to your home with rugs, throw pillows, and blankets.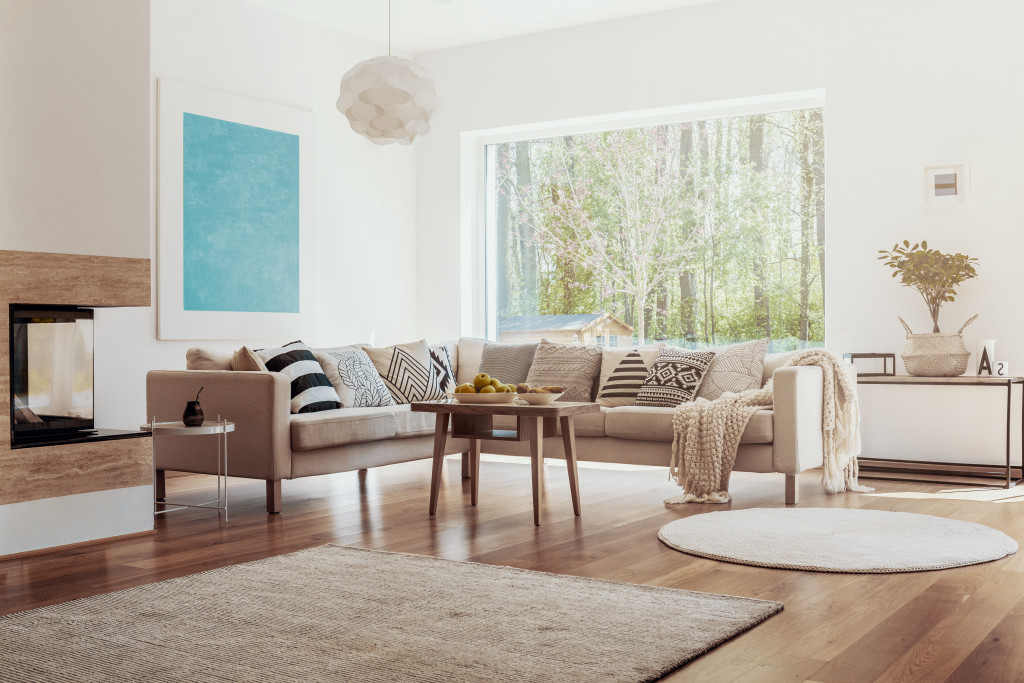 Adding texture to your home is important. These can add a pop of color or pattern to an otherwise neutral space. You can use them to add visual interest and comfort to any room.
Rugs are a great way to add color, pattern, and texture to your home. Throw pillows and blankets are also great ways to add color or pattern. You can shop for these items at any home store or online retailer.
Display family photos and artwork in simple frames.
If you want to display family photos or artwork, make sure to choose simple frames. This will help them blend in with the rest of your home's décor. You can find frames at any home store or online retailer.
Choose modern light fixtures, like pendant lights or floor lamps.
Light fixtures are another important part of home décor. When choosing light fixtures, look for ones that have a modern design. Pendant lights and floor lamps are two great options. You can find these at any home store or online retailer.
Avoid overly ornate details or too many knick-knacks. Less is more in a modern home!
Make sure that you avoid using too many ornate details or knick-knacks. These can make your home look cluttered and busy. Instead, focus on using a few well-chosen pieces to add personality to your space.
These are just some tips on how to decorate your modern home. By following these tips, you can create a stylish and comfortable space that reflects your personality. So get started today and enjoy the process!
Benefits of Home Decorating
Decorating your home has many benefits. It can help you feel more comfortable and stylish in your space. It can also make your home more functional and inviting. This means that you'll be more likely to entertain guests and spend time at home. So if you're looking for a way to improve your home, consider decorating it!
Not only does home decorating give you the opportunity to express your personality, but it can also make your home more comfortable and inviting. If you're not sure where to start, here are some benefits of home decorating:
It can make your home more stylish and attractive.
It can make your home more comfortable and inviting.
It can help you save money by avoiding the need to buy new furniture or accessories.
It can increase the value of your home if you decide to sell it in the future.
So if you're thinking about decorating your home, consider the many benefits it can offer. It's a great way to improve your home and make it more stylish and inviting.