When people say "gardens," the mental image is vibrant and colorful: the garden is supposed to have lots of colors, ranging from yellows to reds to blues. Flowering plants should be diverse, and if possible, there are leaves of different colors, too.
However, a garden that has all the colors of the rainbow isn't to everyone's tastes. The trend of monochrome gardens has been taking suburb homes by storm, with homeowners choosing flowers from one color family only.
The Case for Monochrome Gardens
The thought of a single hue dominating the entire landscape might be boring and dull, but it's actually far from it. Restraining the color palette allows the viewer to focus on the harmony between all the shades and tints in the garden. Moreover, with one color family covering the entire softscape, the viewer can focus more on the juxtaposition of the textures and shapes.
Take the famous White Garden in Kent, for instance. White is a neutral, often called boring, color, but with the right gardening techniques, it can create a glorious, ethereal garden that invokes peace and serenity. The visitors do not go there thinking they'd be bored by the blankets of white, but they expect to see a beautiful garden that is greater than the sum of its parts.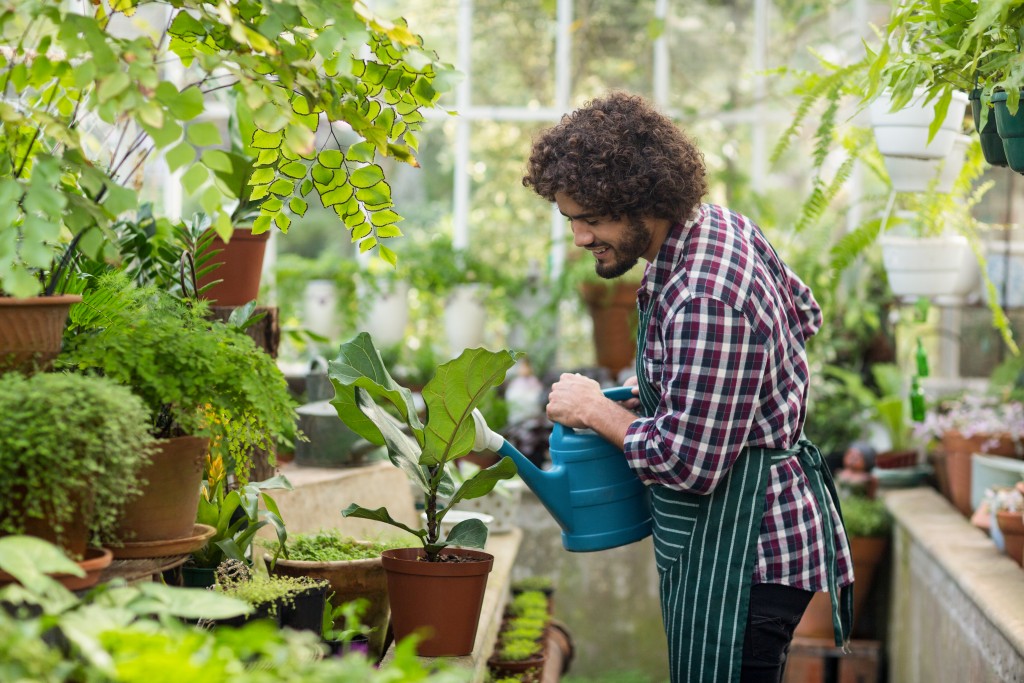 Choosing a Color Palette
The vital thing to note about creating a monochrome garden is that it doesn't use one color. Rather, it uses one color family. The gardener chooses one color, then uses its shades and tints as well as related tertiary colors. Here's a list of possible color families for your garden:
Yellow – You can place plants ranging from pale, buttery-yellow to deep gold. For accent plants, you can plant orange flowers.
Orange – You can plant flowers ranging from pale peach to deep orange
Red – You can plant blooms ranging from pink to maroon to red-orange
Purple – You can plant flowers red-violet to purple to lilac and blue-violet
Blue – You can place plants ranging from periwinkle to deep midnight blues to blue-green hues
Green – Apart from green foliage, you can plant flowers with green, grayish-green, and yellow-green petals
Pink – You can plant nearly white, pale pink flowers to deep rose
White – You can plant flowers with white and silver foliage
To make gardening easier, create a list of all the plants you want to put in your garden and label them according to their colors. This enables you to check if you are missing certain hues.
Don't Forget Size of the Plants
When planning a monochrome garden, do not forget about the plant size. Remember, because there's only one color family, other plant characteristics will take the spotlight. The vertical structure of a garden draws attention to particular areas of the garden and creates a cohesive look. There are three types of plants according to size, and all must be present in your garden:
Base Plants – These are the short stature plants that cover the bare ground. They are at most 30cm tall. Their primary function is to prevent soil erosion and occupy any space that could be invaded by weeds. This is usually solved by a lawn and reticulation installation.
Seasonal Theme Plants – Like the base plants, the seasonal theme plants cover the bare ground. Their added function, however, is to add colorful flowers and make the garden more attractive.
Structural Plants – These are tall, standout plants that make your gardenscape more distinct. These should be used sparingly (about 5%-15% of the garden).
A monochrome garden might be unconventional, but it's popular for a reason. It creates a harmonious look that's easy on the eyes. It's an aesthetically pleasing choice that will make you stand out from other houses on the block.