Sometimes your dream house comes with a room that's a little too small for your liking. In such instances, you can't help but wish that it was slightly bigger and felt less cluttered. If you can't physically enlarge the room, you can do the next best thing. You can play around with the room's elements to make the small space feel bigger.
Carpets and area rugs can hand you instant wins when grappling with a small living space. That said, a quick trip to reliable suppliers such as Hanham Flooring Centre lets you get started on the right note.
Spruce Your Floors
Clever use of carpets and flooring makes a small space feel bigger. A wall-to-wall broadloom provides continuity to make the room feel bigger. A continuous carpet creates the illusion of space by removing visual starts and stops.
If you're not into wall-to-wall carpets, you can achieve the same effect with area rugs. But you need to avoid some common mistakes to achieve excellent results. A small carpet or area rug gives the room a choppy, disjointed look. Furniture placement also plays a considerable role.
Ideally, all the furniture in the room should rest on the carpet. If that's not possible, ensure the larger pieces have at least the front legs resting on the rug.
Color and pattern also play a considerable role in making a small room feel bigger. Lighter color tones are ideal because they are more reflective to give the room an airy, open feeling. Typically, it's best to scale the pattern to the size of the room or the amount of visible space. Pick smaller patterns if you have a lot of furniture and use bigger patterns in sparsely furnished rooms.
Get Creative with Colors
The right choice of colors lets you visually expand a small room to make it feel spacious. The use of contrasting colors enhances the room's decor and increases its visual appeal. Dark colors disappear into the background and enhance the lighter elements. That creates depth in small spaces. On the other hand, brilliant colors are intensely vibrant, giving the room an energetic feel.
Splashing some cool colors on the walls also helps create the illusion of space to make small areas look bigger. Light green and blue colors recede into the walls to create the illusions of space. The same colors in adjoining rooms create continuity, making the area look open and airy.
Bear in mind the 60-30-10 rule when picking colors. A blend of 60% primary, 30% secondary, and 10% accent colors give your room a balanced feel.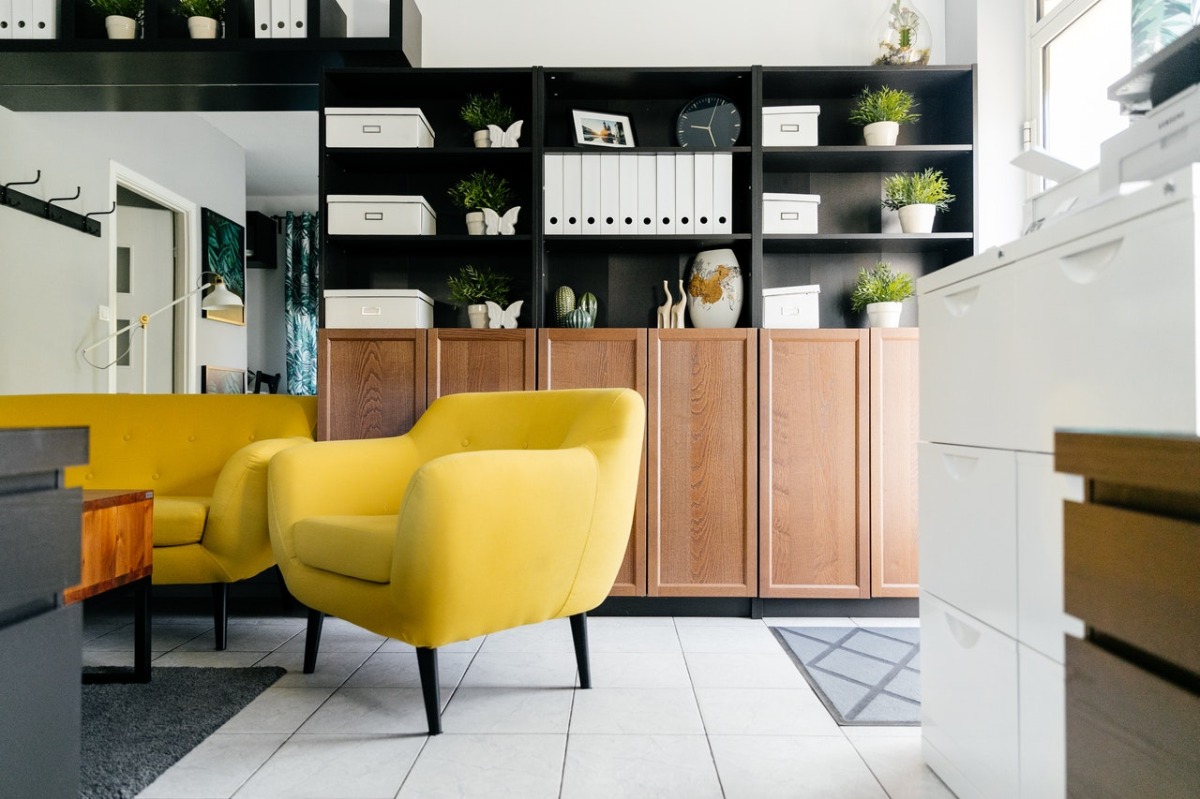 Get Creative with Storage Space
It helps to think vertically when you have limited space in your kitchen, sitting room, or bedroom. Wall-mounted storage units free up prime real estate on the floor. It also gives the room a classy look while making it less cluttered. Under the bed storage spaces are an excellent way to keep a tiny bedroom well organized. You can store an entire wardrobe in this space and free up tons of space.
Installing floating shelves can also help you maximize the vertical storage space. These shelves work in any part of the house, from the sitting room to the kitchen. You must improve your organization skills to make the most of these handy storage spaces. It means polishing your folding skills and ability to organize your closets. It might take more effort, but the results are worth it.
Get Creative with The Lighting
Proper lighting creates a cozy and comfortable atmosphere in your home. It also makes for an efficient way to give a small room an open, airy feel. Switching out overhead lighting for wall lighting is an excellent way to create a spacious feeling in small spaces. Overhead lights make a room feel closed in and smaller by creating shadows.
Using multiple light sources eliminates the shadow problem. It also optimizes the room for the highest reflection. For downlights, uplights, vanity lights, picture lights, and swing arm lights, you're spoiled for choice. Ceiling light directed at the walls and other bright wall lights improve illumination.
Aim for at least six light sources and scatter them around the room for maximum effect. Be sure to couple the lights with hanging mirrors and glossy surfaces. Varying the direction, brightness, and amount of light reflecting off the walls, ceilings, and floors changes the size of the room.
Getting creative with your floor coverings, storage spaces, and colors is a great way to extend a small room visually. Best of all, you don't need a huge cash outlay to achieve these effects.