Now that the snow is finally starting to melt and spring is in the air, it's time to start thinking about all the outdoor chores you need to do to get your yard ready for summer.
To help make things a bit easier, we've put together a spring cleaning checklist for Your Yard. Whether you're tackling basic tasks like mowing and trimming, or more advanced projects like planting flowers and shrubs, following this checklist will make sure your yard is looking its best.
1. Take Care of the Pool
The winter months can be rough on a pool. To avoid excessive wear and tear over the summer, clean out the filter and pump at least twice a week to ensure debris doesn't clog them up. Using a net, remove any leaves or other material from the pool's surface.
Clean the pool thoroughly. Scrub the tiles and steps. Wipe any grime or dirt resting in the pool's nooks and crannies. Pay attention to the pH level of the water. If it's too alkaline (or higher than 7), you need to call experts in pH balance pool maintenance.
The ideal pH for a swimming pool is a little over 7 (such as 7.4). Alkalinity in water promotes scale build-up, making it less efficient and more prone to premature wear and tear. Moreover, it may cause health problems later, like skin infection, as bacteria thrive in the water.
2. Check for Leaks
Leaks can lead to a lot of problems over the summer from increasing your water bill to causing structural damage to your home. Moreover, if you like in places that experience winter storms and ice dams, water can accumulate on your roof for long periods as the temperature rises.
To ensure you don't have any major leaks, check your outdoor faucets and spigots by turning them on and off. If they're loose or wobbly, tighten them up. Call a roofer to check the condition of your roofing and gutter. They can seal small holes, repair broken shingles, and clean any buildup on the gutter.
Hire a plumber to check all your indoor faucets and pipes. If you live in an old house, this professional may need to replace your plumbing system. If you have trees, they can help determine if roots have been penetrating the ground and burrowing into pipes.
3. Spruce Up the Yard with Landscaping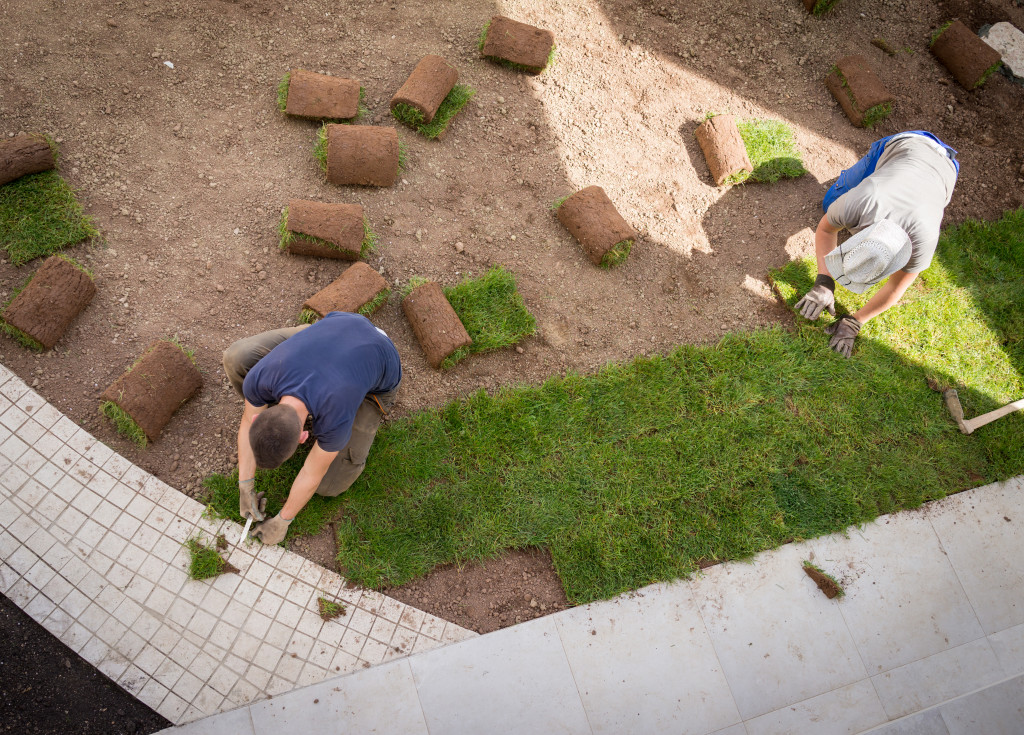 All homeowners want a beautiful yard, but you can't just sit back and wait for the flowers to bloom. Use springtime to focus on landscaping projects.
Some great ideas to start with include planting grass seeds. Get rid of any dirt spots in your yard by reseeding them with grass seeds. Once the new lawn starts to grow, mow it regularly (about twice a week) to encourage healthy growth.
Repair or replace a fence or add a deck. Your old fence probably doesn't meet the safety code anymore, and that deck may be looking a little weathered. Spring is the perfect time to get them both replaced before the warm weather really gets going.
Build a new shed or garage. Make room for all your lawn and landscaping equipment by building a storage space near the yard's entrance. You can also use this outdoor structure as an entertainment spot when hosting backyard parties and barbecues.
4. Mow the Lawn
You'll want to look at your lawn and decide if you need to fertilize it or reseed any areas. Either way, mow the lawn. Keep it under 3 inches in height. Longer grass doesn't dry well, which can lead to mold growth.
Use a sharp blade on your lawnmower. Dull blades rip into the grass, causing brown patches to appear. It also increases the amount of time spent mowing your lawn because you have to go over it more than once to get rid of all the long pieces.
Plan out your landscaping projects, so you know what route you need to take while cutting the grass. You don't want to finish up and realize you missed a spot.
5. Trim the Bushes
Check your bushes to see how much trimming they need. Shrubs should be cut back halfway for them to grow more lushly when warm weather hits. Cut off any dead or damaged branches at the very least, but ideally prune them back by about a third.
You can also give your outside plants a little haircut if you want to clean up the foliage or keep down weeds. Cut off any brown or dying leaves, but don't cut too much of the plant's green growth.
Keeping up with your yard's maintenance can be a daunting task, but it's essential for the long-term health of your lawn and improving your property's curb appeal. With this cleaning to-do list, you'll have no problem getting started on springtime projects to make your home look amazing by summer.