Warehouses are more than just a storage facility, it is an important part of your business' supply chain. It creates time utility by making available the goods whenever required or demanded by customers. It also ensures a regular supply of goods in the market and helps reduce price fluctuations when supply exceeds demand.
Designing a warehouse seems like a simple task, but it is actually complex. The design and layout will determine your business' productivity. Here are factors you should consider to achieve your ideal warehouse design.
Determining the Objective of the Facility
The effectiveness of your warehouse depends on its suitability for its purpose. Your business objectives will influence the warehouse's size, physical design, location, dimensions and structural composition. For example, a business that promises speedy delivery will need to locate its warehouse close to customers, or close to the facilities of a preferred carrier.
Deciding on Volume Requirements
Warehouses are expensive capital investments, so you want to make sure that your warehouse runs at a 100%, or at least close to 100% physical capacity. After establishing the location and the number of warehouses needed, the next step is to determine the quantity of products to be stored, and the nature of orders and specific picking requirements. It is also important to understand the characteristics of the goods that need to be stored, such as their weight and dimensions, as these features affect the shelf designs, the capacity of installations and power lines.
Determining Equipment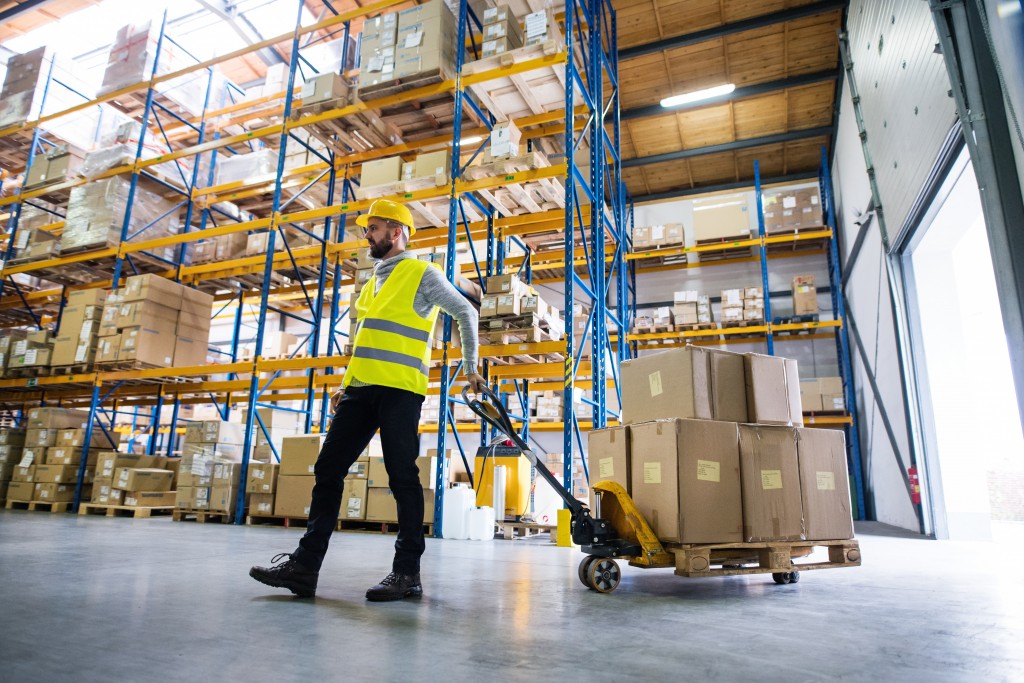 Once you've determined your volume requirements, you can choose the necessary equipment. You can choose to use traditional equipment, but you can also consider automating systems to maximise your operations. But if, for example, a conventional racking system will suffice, you don't need to invest in an automatic storage system.
Other factors like flooring and lighting will also affect warehouse operation. For example, the use of epoxy floor coating is recommended for warehouses that transport heavy loads within the area. Proper lighting helps prevent potential hazards, like cross-aisle traffic and tripping.
Designing the Warehouse Layout
After laying out the equipment, labour and volume requirements, it's time to design the warehouse. Logistics companies advise sticking to the FAST (flow, accessibility, space and throughput) approach when coming up with your warehouse layout.
This is the sequence of operations within the warehouse. Each activity should be located as close to each other as possible to avoid delays. It's critical to know where the items are located, how to get them, how to move them and how long one process takes to get to another. The aim is that there should be a smooth flow of operations with a minimum amount of movement and disruption.
Accessibility means the ability to access an item in as few steps as possible. This factor is crucial when you're dealing with items that have a shelf life. By arranging shelves and racks close to the next activity and stocking items based on their shelf life, disruptions can be considerably lowered.
The smooth flow of goods and workforce are highly dependent on your warehouse's space. When considering the use of your warehouse space, allocate most of it for storage and processing purposes. The remaining space can be used for offices.
Throughput refers to how your products interact in the warehouse space, from arrival time to departure time. Make sure to anticipate how the flow of your items changes during peak or low seasons. Always account for the highest demand period so that you can ramp up your production to the highest level without the warehouse layout slowing it down.
Once you've finished your layout, test it in close-to-reality conditions and adjust your layout, if needed.
Your warehouse design is an important factor in the efficiency of your business operations. By considering your business objectives, volume requirements and the equipment needed, you are better equipped to come up with a highly organised and optimised facility.