You've finally gotten your house well furnished, beautifully decorated, and it finally looks just the way you had dreamed it would be. And now, it's time to focus your attention on the outdoor space. The following creative tips will help you upgrade your outdoor and create an inviting space that reflects your style. Whether your area is big or small, read along to know how to make the best of it.
Keep functionality in mind
Always consider the function of your outdoor space. If you have a large patio, for example, think about how you would want to use it. You can dedicate one corner for entertainment and lounging, where you can have your couch, and perhaps the other side for outdoor eating, where you can set up a barbecue grill and a dining bench. You don't need to spend so much on all this. You have to be creative in re purposing existing furniture and accessories. For the lounge, you can arrange mats and rugs along with throw pillows and shawls.
Providers of concrete sidewalk pavers in Kansas City suggest using small pavers to connect your patio to the yard or garden. There are many creative walkway ideas to choose from.
Pick a style
Rule number one: pick a style and stick to it. Before you get started, look for outdoor space inspirations and ideas. Determine whether you want to go modern, rustic, or contemporary. Combining styles is fine, but it can be tough to put together elements from different themes, and it may only result in a confused look and feel. Pick one style that reflects your personality. Also, remember that your outdoor area should be an extension of the indoor space.
Start with the entrance
This is where it all starts — you've got to startle your guests and give them a taste of what to expect by the time they get in the house. You can place a big garden statue, fountain, or sculptures at the main entrance. Then at the main door, invest in high-end looking knobs, wall sconces, and kick plate. Do not leave anything to chance; go all out.
Use lighting creatively
Lighting has a way of transforming any space from simple to a more sophisticated and high-end look. There are many ways you can use lighting in your outdoor space. You can hang lanterns just by your eating area, or you can use candles. You can also use oil torch lamps, border your landscaping with lighting, or maybe install some on the trees and other plants in the yard. However, you would want to keep off too many colored lights as you are not decorating for Christmas.
Plant a garden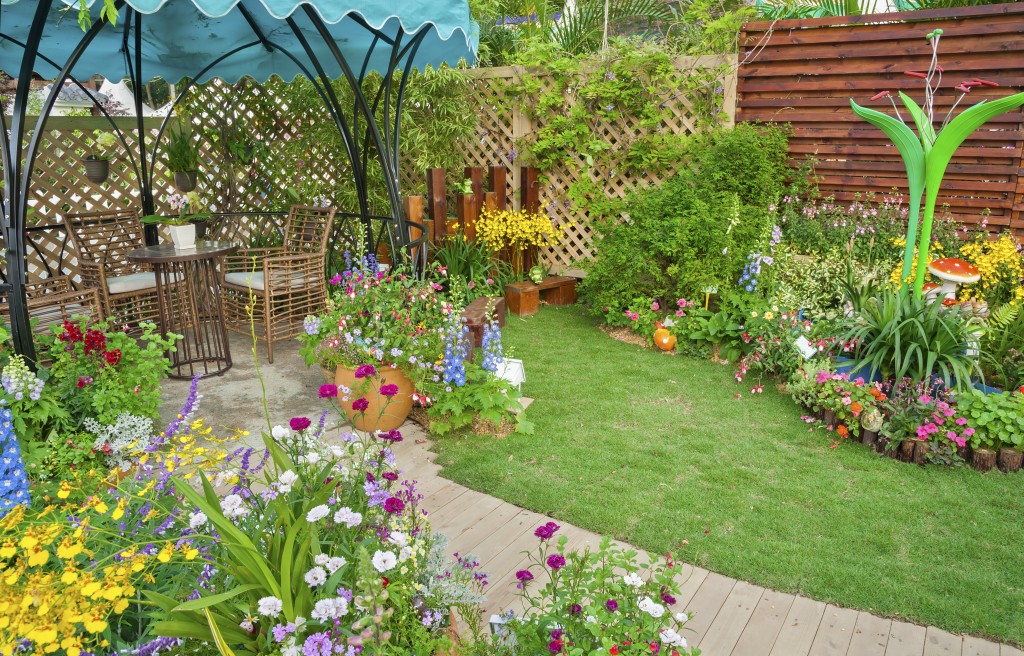 You can never go wrong with this. This is the only thing that ties your style to mother nature. The plenty the green, the better the look. You can create a small garden of flowers and plants of different sizes and colors. This is the only place you can go wild with flowers without feeling any guilt. You can put some in pots, galvanized buckets, or baskets and place them in different corners of your space and maybe hang some.
Bonus Tip
Create a focal point with timeless outstanding features and décor pieces. It can be a fountain, fire pit at the lounge, bird bath — whatever suits your style.
There you have it, some techniques to give your outdoor space an enticing appeal. With the tips above, you will have a space that will impress your visitors.