Bathrooms can make or break the guests' impression of your establishment. For restaurants, malls, hotels and business centres, having clean and impressive-looking toilets and bathrooms can make a huge difference in their success. Also, privacy is key, so toilet partitions are a priority in NZ and many other areas.
In the hotel industry, close attention is paid to how a bathroom looks and how it is maintained. There are some that have gone above and beyond, making it to the list of the most beautiful hotel bathrooms. You can take inspiration from some of them.
The Lion Sands Game Reserve in South Africa
If you love the outdoors, you will surely love the bathroom view of the Lion Sands Game Reserve hotel in South Africa. You get a picturesque view of Africa's amazing wildlife from the Treehouse bathroom, which is situated 10 feet above the ground. You can see buffalos, rhinos, elephants, lions and leopards freely roaming around.
The Southern Ocean Lodge in Australia
Get a panoramic view all over the wonderful Great Australian Bight from your own bathroom at the Southern Ocean Lodge, particularly at their world-renown Osprey Pavilion. This also comes with a stunning rain shower, hand-carved bathtub made out of first-class granite and magnificent limestone floors.
The Royal Monceau Raffles in Paris
The perfectly lighted bathroom can be found at the Royal Monceau Suite in Monceau Raffles in Paris, France. The bath features a bathroom ceiling that is uniquely backlit in its entirety. You will not see a single shadow here. Guests love the best lighting possible in this bathroom as they see themselves in its stunning mirror walls. It is a perfect selfie place!
The Four Seasons in Bali, Indonesia
If you want an authentic Balinese luxury experience, visit the Four Seasons in Bali, Indonesia. Here you will see the exquisitely made bathroom with elegant fittings, vintage bathtub, native Balinese wooden railings for towels and a to-die-for floor-to-ceiling view of the virgin forest of Bali with the natural sounds of birds humming in glee.
The Four Seasons is a 5-star hotel of its kind to incorporate native Balinese bathroom design to its guests with an amazing 360-degree view of the lush natural environment that Bali has to offer.
The Ponta Dos Ganchos in Brazil
Ponta Dos Ganchos is a private island hotel found on the Emerald Coast of Brazil surrounded by pristine turquoise waters of Brazil and its very dense virgin rainforest. At the Esmeralda Villa, you will find a jaw-dropping bathtub with eburnean whirlpool and a dry sauna. This is the perfect haven for a luxury vacation!
The San Clemente Palace Kempinski in Venice
The San Clemente Palace Kempinski in Venice is a luxury hotel converted from the remains of a 12th-century monastery and church. The San Clemente suite is one of a kind for its very spacious accommodation that measures up to 2,045 square feet. It is so exclusive to guests that they even have their private pier access.
The bath is so immaculately clean, and it comes with a white bathtub set next to the window with the amazing Venice crystal blue waters as a backdrop. The glass in this bath is made of high-grade Murano glass and the toiletry products made by signature Italian designers exclusively for the hotel.
The Hotel Café Royal in London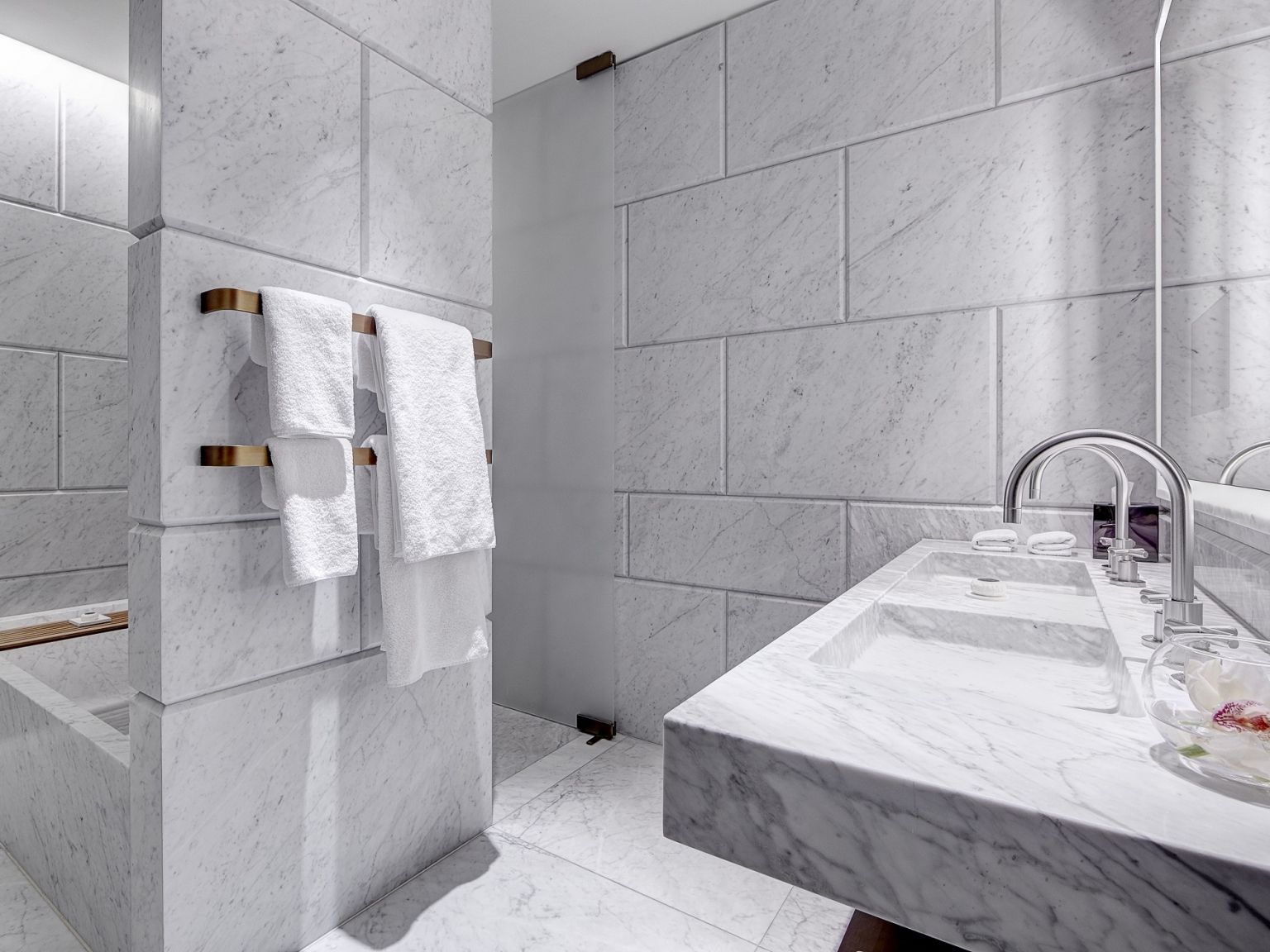 For over 150 years ago, Hotel Café Royal in London never ceases to amaze its guests ranging from Elizabeth Taylor, Winston Churchill and Brigitte Bardot, to name a few. Its Royal Suite measures a whopping 3,000 square feet and comes with four baths!
Experience a luxurious bath fit for royalty with its exquisitely beautiful handcrafted bathtubs made of marble and double vanity sinks while you hear classical music in the backdrop.
Hotels pride themselves in luxurious bathrooms truly fit for royalty. Besides their opulence, they are also known for their cleanliness and attention to detail.