Designing a home can be challenging. You have to figure out how to maximize each room without overcrowding it. It shouldn't just be functional. It also has to be pleasant to look at since you're spending a lot of time on it. On the bright side, there are loads of resources that can help you upgrade your houses. TV shows and magazines have a lot of information about making the most out of small and large homes. They're not the only ones you can use as inspiration. Retail shops and restaurants embody the balance between function and aesthetics.
Here are five lessons to learn from commercial spaces:
Leave Room for Guests
Naturally, stores have space outside for potential customers. Some establishments even have commercial carports and canopies to accommodate guests. But visitors aren't exclusive to groceries or cafes. Homes should have enough room to house family and friends who come over from time to time. That is especially important if you're hosting a party or a holiday gathering. For small houses, you can make room for visitors by replacing your dining table. Instead, you can get one that can be folded and stowed away when it's not in use. You can also put more chairs in the living room so everyone can enjoy the movie night or game day.
Less is More
If you have ever visited an Apple store, you'll notice the striking layout. It barely has any decor beyond the product posters. The tables are aligned symmetrically, and the entire store is almost entirely white. You won't find any other thing that can take away your attention from phones and computers. Right from the get-go, the focus is on the products.
You don't have to paint your home in plain white to get the same effect. You can take a page from their book instead of getting rid of your clutter. The function of the room should be a priority. If it's a home office, focus on getting a sturdy desk and an ergonomic chair. If it's a bedroom, it should be built for comfort and sleep. Avoid bright wallpapers and get blackout curtains.
Plant Some Color
Like houses, restaurants come in all shapes and sizes. Newer ones have adapted a modern look using only a few colors and mood lighting. On the other hand, older restaurants tend to look cozier and use more decorations. No matter the age or location, all restaurants tend to feel stuffy during lunch and dinner hours when it's filled to the brim with patrons. One way to make a place more inviting is by getting plants. Over the past few years, restaurants in New York and Los Angeles have used plants to adorn their interior. You can use the same strategy to bring some life and color to an otherwise dull room. If there's an awkward corner in the room, why not get an indoor tree to fill the space? You can also use smaller ones to use as a centerpiece in a table or for hanging decorations. Plants don't just look good, but they also have mental health benefits. Make sure that you remember to care for them, so they won't end up looking mushy and brown.
Maximize Your View
When a cafe or a restaurant has a good location, you'll know it right from the start. They use large glass windows and have seats by the balcony so you can enjoy the view while you're eating your meal.
You can take the same principle at home. Set up a patio in your backyard. If you have a limited budget, you can opt for an open design. All you need are patio pavers, a table, and some chairs and you're all set. You get to enjoy dining al fresco without leaving the house. Plus, it's also an excellent investment if you plan to sell in the future. Patios have been proven to add value to a property.
Light Up the Room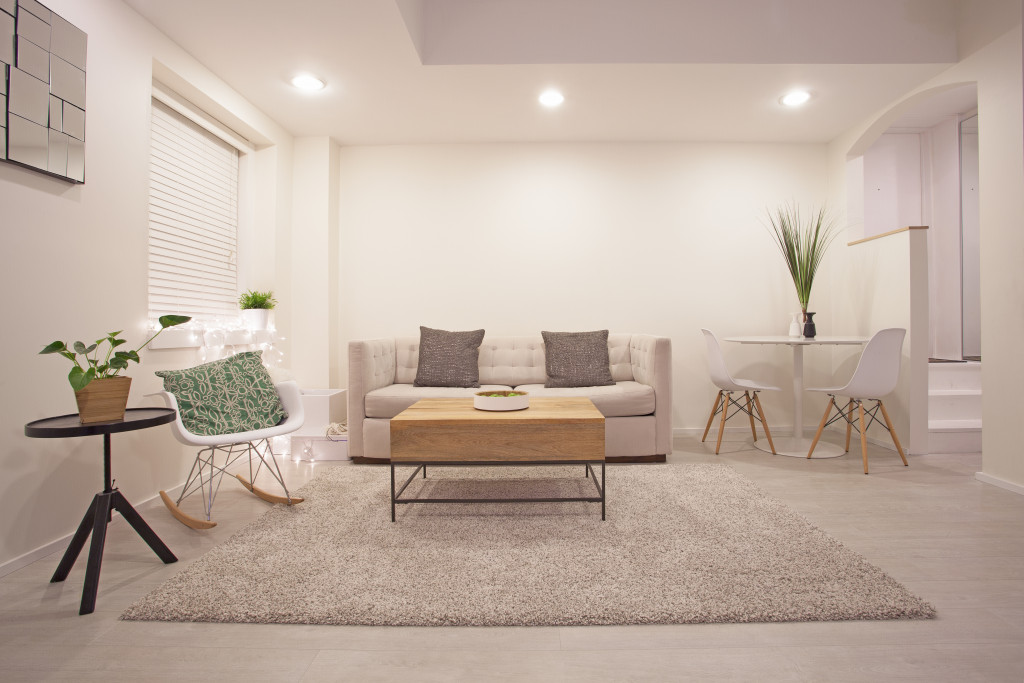 Enter any shop and observe the number of lights they use. Typically, there are overhead fixtures and smaller ones per shelf. Every corner is well-lit, so you don't have to strain your eyes when you're looking at a product.
For homes, you can copy the concept by placing different lights to get rid of dark spots. You should also use various sources by opening the windows and using small and large lights.
One of the best things about home design is you can take inspiration from anywhere — even your favorite store. Observe how their design supports their function and use the same idea at home.