Gardening is a natural stress reliever. It beautifies the overall appearance of our outdoor space, no matter how big or small it is. Its calming effect gives us a sense of peace, especially when we're bombarded by all the demands and piled-up work both at home and from our jobs.
Aside from the shade that it provides, well-maintained landscape gardening can also add value to your home, making it more profitable for homeowners, especially in the long run.
Of course, beautifying your garden comes with careful planning. If you are unsure of the proper landscape to use for your specific type of garden, asking a professional will paint you a better picture of the visuals you have in mind. For instance, if you are concerned about flooding but still want to add aesthetic appeal, hiring a retaining wall contractor is your answer.
The benefits of gardening attract a lot of homeowners from all walks of life. While the landscape is just as crucial, choosing the best plant for your garden is, too. If you are thinking of ways to spruce up your outdoor space, consider these ideas:
1. Create contrast and harmony
There is unity in diversity. This is especially true in achieving a beautiful landscape design. Different shapes and colors do not only spark interest to your yard, but it also draws focus on those elements that you want to emphasize. The distinction between a plant, an artifact, or any other element you want to put in your garden is emphasized through contrast. Mixing greenery also adds thrill and avoids predictability and boredom from aligning the same element. For instance, if you want your fountain to be the focal point of your garden, consider adorning it with beautiful red roses and shrubs to make it stand out. However, be careful not to overdo it as you should still maintain visual balance to achieve a garden that's easy on the eye but exudes character.
2. Experiment on layers
Visual aesthetics is part of the overall appeal of having a landscape garden. It's essential to know the techniques to maximize every space you have. For those who have a small yard, incorporating horizontal layers can create the illusion of a larger space. Vertical layered plants, on the other hand, lets you maximize your space. Strategically layering your plants and shrubs provides them more room for growth and gives you more ideas to incorporate your creativity.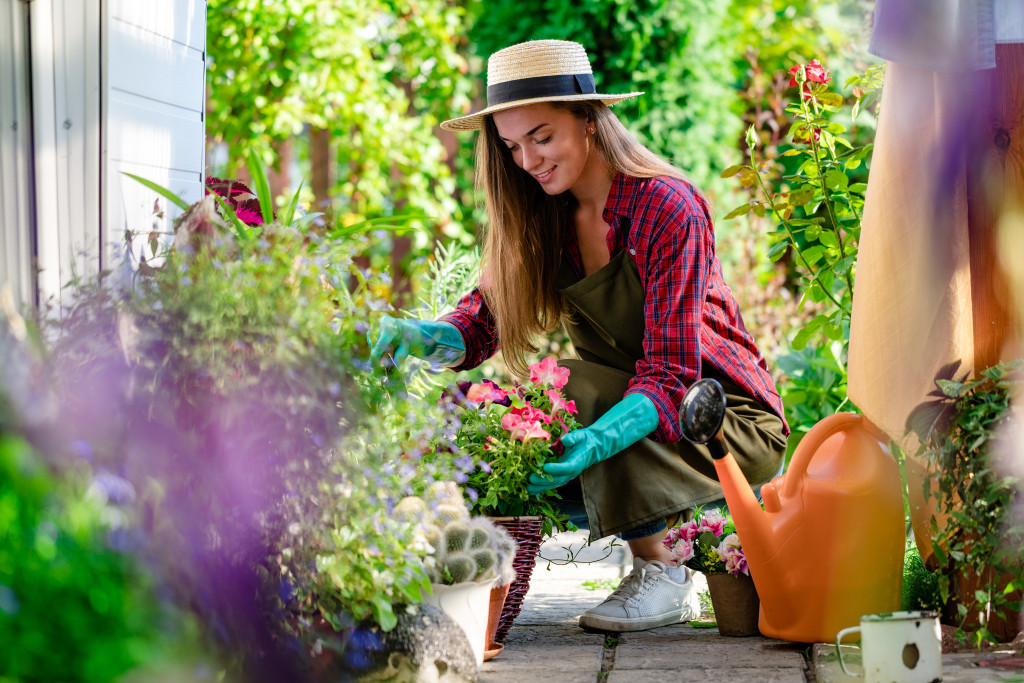 3. Pay attention to your lawn
Having a perfectly maintained lawn sets you on a good start. It provides you a canvass to paint an idea of how you want it to look and what elements and plants you wish to place. Though simply mowing the lawn could raise eyebrows and reduce the thrill for some, doing so is beneficial not only for your property but also for your health. Besides providing you some physical exercise, the green environment and the repeated movement of cutting grass puts your mind in a calmer state. Research conducted by Dr. Nick Lavidis, a neuroscientist from the University of Queensland, suggests that the scent of freshly cut grass contributes to reducing stress and anxiety.
4. Trees, trees, trees
When beautifying your lawn, most people only focus on flowers, potted plants, and shrubs. However, to make your garden stand out and for added health benefits, it's worth noting that planting trees is a significant addition to your garden. If you live near the main road, having a tree in your yard can help block out the noise and air pollution and provide you with fresh air and shade. Trees flourish and bloom in different weather and seasons. Thus, they reveal fascinating shapes and textures over time, providing shelter for animals. You can also use them as your base should you want to add hanging garden ornaments, furniture, lights, and other garden decorations.
5. Invest in your privacy
While beautifying your garden attracts the attention of your neighbors and passersby, it's also your space for relaxation and sanctuary. Investing in different types of privacy panels would go well with the landscape you have in mind. Anything from steel screens, fences, or even simple hedges can give you the feeling of security from outsiders, intruders, and prying eyes. Doing so also adds a neat, minimalist look that adds to the aesthetic and character of your property.
A beautiful garden not only caters to the visual appeal and value of your house but adds an overall homey feeling for those living in it. It could serve as a particular space for your kids to play around and enjoy the sun with less worry and stress from your end. It could also simply be a private place to celebrate and reconnect with your family. Whichever it is, beautifying your garden is definitely worth the investment.