The traditional interior design is a perfect choice for homeowners who want to showcase a classic European décor. It revolves around the classy combination of wood tones, elegant furnishings, and aesthetic silhouette lines. It incorporates exquisite details of unique woodwork, soft fabric draperies, sturdy crafted furniture, and carved moldings.
Today, many are combining traditional design with some modern elements, from bolder colors to contemporary pieces. Before, floors and furnishings with wood finishes tend to be darker. Now, homeowners are getting experimental in exploring lighter options while still retaining a timeless interior soul. Find out here more about traditional interior design and how you can achieve it.
Warm, rich tones
Among the most remarkable characteristics of traditional interiors are their warm and rich tones. The design uses refined colors and dark woods for floors and furnishings, while the walls are filled with lighter tones. The accented tons will create a more welcoming vibe, while the neutral tons will give it a more spacious look. If you're not a fan of darker wood flooring, you can choose engineered white oak flooring that still offers a welcoming ambiance but with a bit more contemporary look. You can then add furnishings in accent colors such as warm jewel, brown, and red. You can also balance out the neutrals with dark-wood ornaments and furniture.
European décor
The traditional interior design perfectly embodies the comforting charm of the European look. It uses European-inspired décor that details intricacy, art, and symmetry. If you're someone who loves vintage art pieces and antiques, this interior style is ideal for you. The traditional style has been influenced by European décor to add a comforting and elegant charm through historically rich designs.
From center tables and shelves to chests and delicate objects such as vases and figurines, a home with a Traditional interior is surely filled with exquisite pieces and traditional souvenirs from all over the globe. In addition to that, many traditional homes also have grandiloquent touches of embellished and elegant furnishings. These include intricate chinaware, table lamps, candleholders, and huge bookcases.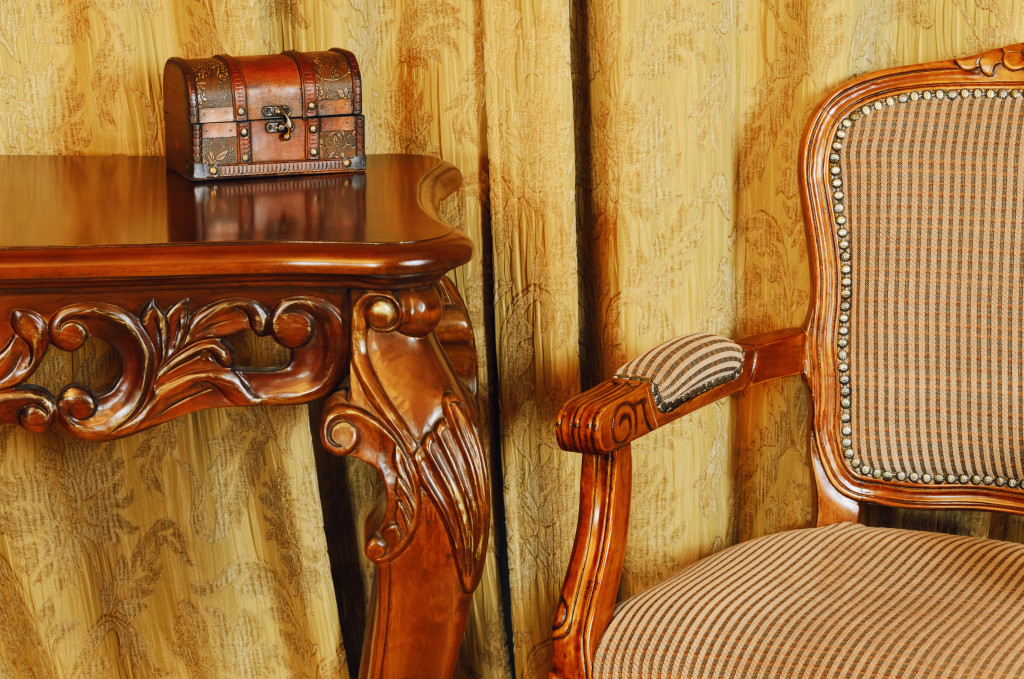 Curved and ornate
In contemporary designs, the choice of furniture is often within unfussy and clean lines. But when it comes to traditional interiors, the curvy and ornate rules. From built-in cabinetry and handcrafted materials to other furniture pieces, everything is made from carved details and curved lines. These elements are what sets the style apart from most modern interior designs. It creates a homey and inviting feel into the home with a harmonious combination of fluffy upholsteries and cabriole furniture legs.
Every curve you incorporate into your home increases the overall traditional statement. But also, don't forget to still create a soothing balance with the entire ornate architectural details. Aesthetically fill your space with exclusive woodcarvings and button-tufted pieces.
Mix of patterns
Traditional interiors are well-known for having aesthetic layers of colorful and exquisite patterns, from the living room rug to the window treatments. The style uses numerous patterned fabrics such as florals and stripes to achieve an ordered, rich, and elegant visual. Other common patterns include damask, paisley, plaids, and toile. They are layers or mixed to provide a more extravagant ambiance in the space.
If you want to craft a unique tone-on-tone visual without mixing in too many shades, damask fabrics are great options. In case you're worried that your living space will look too messy with the mix of patterned elements, it's best to start small. You can add patterned blankets and pillows to your bedroom then take on bigger tasks such as installing new upholstery and draperies.
Heavy windows
Do you love that floor-to-ceiling window types with full-length drapes in them? A traditional interior style is all about that too. Homes with traditional interiors primarily make a statement with their window treatments paired with matching valances and cornices. Heavy-lined drapes are not a classic style element, as many modern and contemporary designs use them to create an illusion of height in the room. This visual trick is also an excellent way to make the space feel airier. If you're someone who values your privacy, you can always choose thicker curtains and just add sheer ones for a softer look. Overdoing it will make the room feel excessively heavy and suffocating.
You can go all out traditional or sprinkle in some non-traditional elements in your interior space. With the decorating and design tips in this guide, you can put together vintage and contemporary pieces harmoniously. Feel free to mix modern elements in your traditional design to create a more unique and personal home for you and your family.